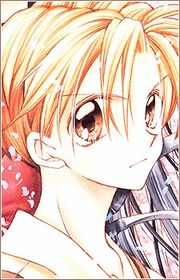 Mitsuki's love.
His parents died when he was very young, so he had to live in an orphanage where he later became the best friend with Mitsuki. Before Mitsuki could confess her real feelings to him, he had to move to America where his new parents live.
To find him again, Mitsuki wants to become a singer, so that Eichi could hear her no matter how far away from each other they are.
Ad blocker interference detected!
Wikia is a free-to-use site that makes money from advertising. We have a modified experience for viewers using ad blockers

Wikia is not accessible if you've made further modifications. Remove the custom ad blocker rule(s) and the page will load as expected.