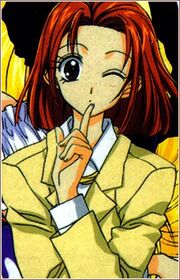 NameMasami Ooshige

AliasYuina Hanakazari RaceHuman GenderFemale Age26 years old HairBrown
eyes
Brown
bio
Masami Oshige is a funny, kind, understanding person who loves to drink. She is Mitsuki Kouyama's manager. Her stage name when she used to sing was Yuina Hanakazari, but she never sold well.
Masami has always loved Keichi Wakaoji (Mitsuki's doctor), who did a music video with her back when he was a singer in the band Route L. He was known as "Prince" and Masami still calls him that.
Masami is very lonely and so she dates Mitsuru Kijyou, her boss. In the anime, Masami and Keichi get together in the background, but in the manga, the two get together in volume 5. Masami truly cares for Mitsuki.
Ad blocker interference detected!
Wikia is a free-to-use site that makes money from advertising. We have a modified experience for viewers using ad blockers

Wikia is not accessible if you've made further modifications. Remove the custom ad blocker rule(s) and the page will load as expected.